The day is finally here! Disney*Pixar COCO is playing in movie theaters today! If you all remember, I attended the press event in San Francisco a few months ago and got to watch the first 20 minutes of the unfinished film. What a tease! I finally got to see the entire movie on Monday with my girls, and we loved it! So, it's the perfect day to share our family-friendly COCO Movie Review!
Thank you to Disney for the invitation to attend the Pixar COCO Press Event in San Francisco. I was also invited for an early screening of Disney*Pixar COCO. All magical opinions are my own.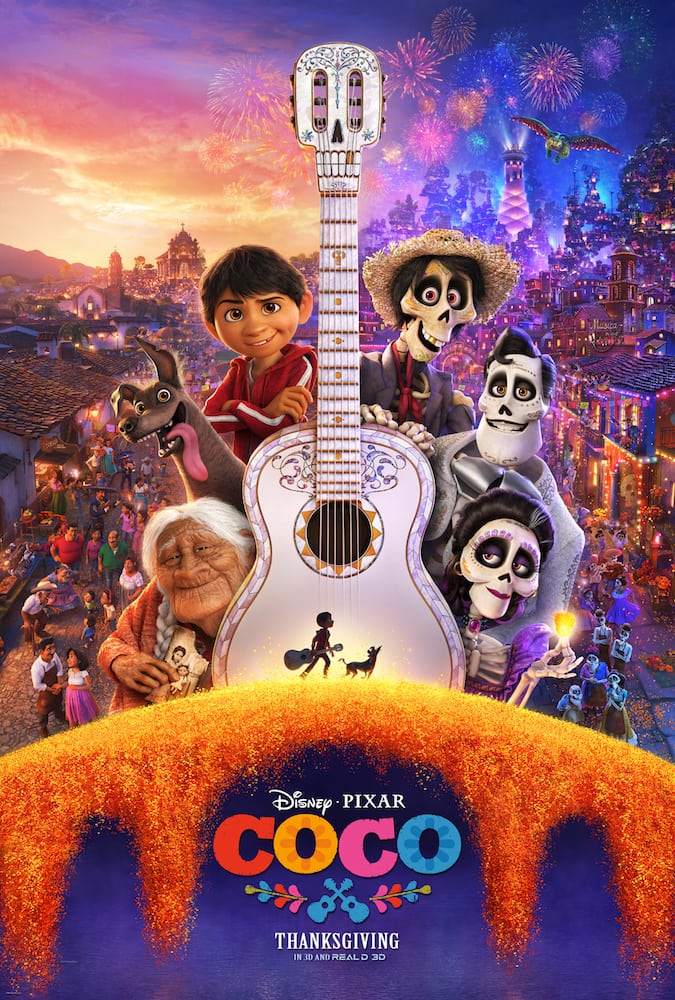 Family Friendly COCO Movie Review | It It Appropriate For Kids? #PixarCOCOEvent
I might be a little biased when it comes to loving the newest Disney*Pixar film COCO. Being able to experience first hand how the movie came to life was unbelievable. Having the opportunity to interview the creators was an honor and has given me a different perspective on this very culturally filled vibrant adventure that is COCO.
Throughout the film, I found myself back at Pixar Animation Studios remembering all the details that we learned about the characters, their designs, the lighting, and the music. So much hard work and dedication brought this beautiful story to life. My family loved it, and I know that you will too!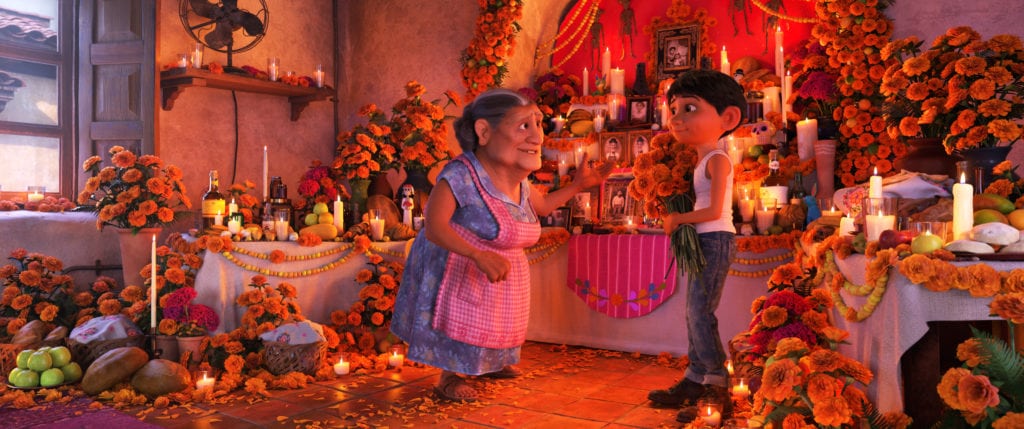 The Movie Is Not Only For Latinos
I'm going to start this review by saying that the movie is not only for Latinos or those interested in a Hispanic background. One of my favorite things about the movie COCO is the beautiful story and cultural additions of the Mexican celebration Dia de Los Muertos. I'm also going to say that yes, I am Latina, yes I am proud that COCO was created based on Latin culture, and no I am not Mexican. That doesn't mean that I don't enjoy other cultures, learning about other countries, and genuinely enjoy a heartwarming story. COCO dives into all three of these.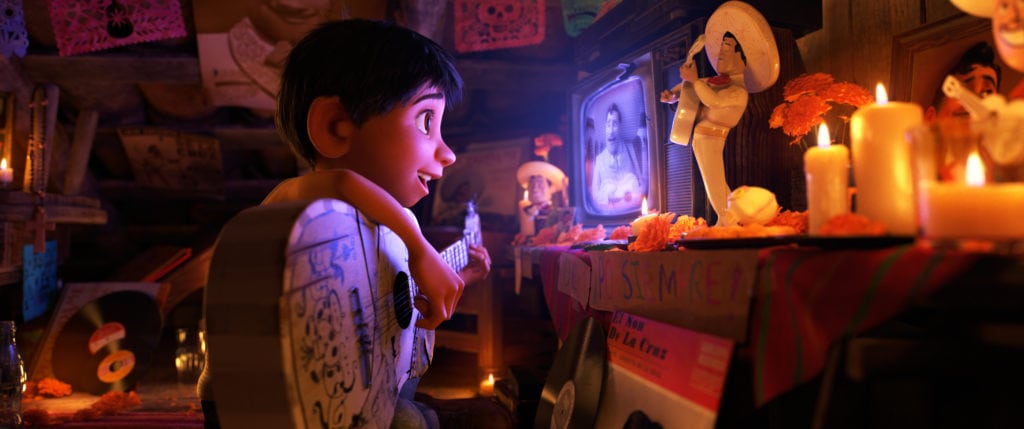 The Heart Tugging Story and Dia De Los Muertos
COCO has a compelling and heart-tugging storyline that will have you wanting to give Miguel the biggest hug possible when he finds out the truth about his past. A little boy who is growing up without music, but knows that his dream of becoming a musician is too strong to give up. All while not disappointing his family. As always, with Pixar films, make sure to bring your tissues! They know exactly how to tug at heart and make us feel, well… all of the feels!
You will also walk out of COCO with knowledge about the Mexican celebration Dia de Los Muertos and the importance of the celebration. If you read my previous post on 5 Facts You Should Know About Dia de Los Muertos; you learned that my husband is of Mexican descent. His father was Mexican, but he never grew up with the cultural background. COCO brought some new perspectives to him about his ancestors and his unknown culture. I will admit that I'm hoping it would ignite a bit of his past and he would want to incorporate the holidays with our children thoughout the year.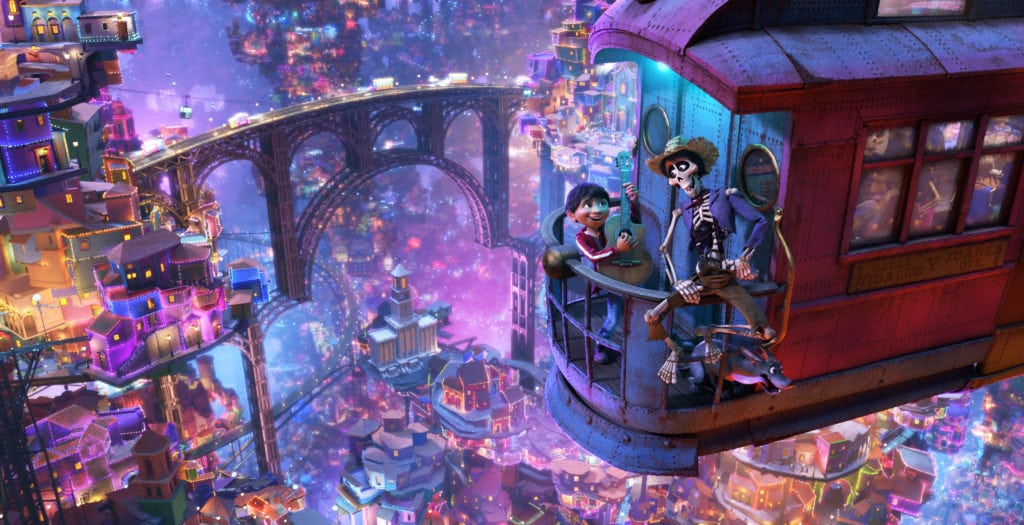 The Graphics and Vibrant Colors
When you head to theaters to watch a movie created by Disney and Pixar you only expect the best. You know that you are in for an amazing ride and story line, but this time they outdid themselves with the graphics and vibrant colors. From the moment the movie begins you are blown away with these beautiful bright colors. You don't want to look away, because you're afraid you might miss something.
Director Lee Unkrich, shared with us during his interview that "It's the most visually complex movie I think we've made at Pixar."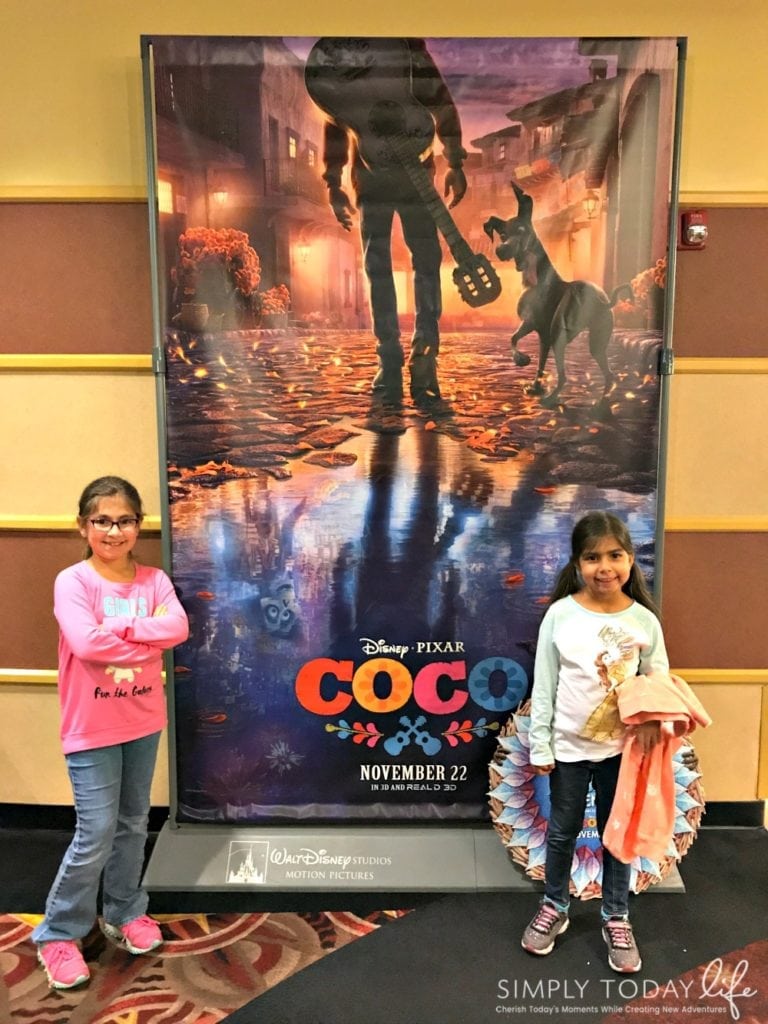 It It Appropriate For Kids?
My daughters were very excited to finally see COCO in theaters, especially since I've been sharing photos of my experience with them for the past few months. Here's what my girls had to say about Disney*Pixar COCO.
Eight years old: "I think COCO will inspire people to write songs and conquer their fears. Especially if they want to sing and perform on stage. My favorite part of the movie was the skeletons. I thought they were funny".
Six years old: "My favorite part of the movie was when Pepita came flying out. I love how pretty she is and the bright colors".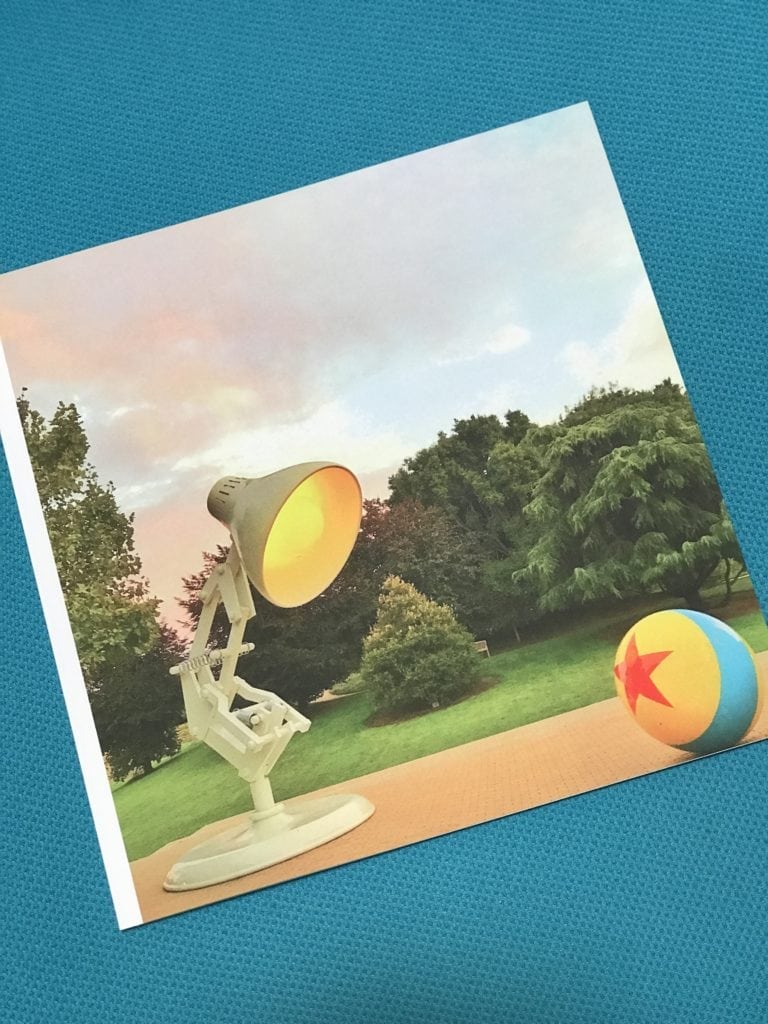 Chatbooks and Promo Code
Thank you Chatbooks for my amazing memory book!
Disney*Pixar COCO is all about family and the strong ties between them. Opening on Thanksgiving week was the perfect date for the movie's release. That's why I wanted to share with you all this awesome Chatbooks I created with photos of my blogging family! These men and woman are the ones who encourage me during trips. They help create these once in a lifetime memories that I will always remember! Make sure to visit Chatbooks or download the free app and create these memory books that you can share with family and friends. They make the perfect holiday gifts that will be cherished forever!
You're on our nice list—20% off through Dec. 2 | use code: JOLLY

About Disney*Pixar COCO
Despite his family's baffling generations-old ban on music, Miguel (voice of newcomer Anthony Gonzalez) dreams of becoming an accomplished musician like his idol, Ernesto de la Cruz (voice of Benjamin Bratt). Desperate to prove his talent, Miguel finds himself in the stunning and colorful Land of the Dead following a mysterious chain of events. Along the way, he meets charming trickster Hector (voice of Gael García Bernal), and together, they set off on an extraordinary journey to unlock the real story behind Miguel's family history.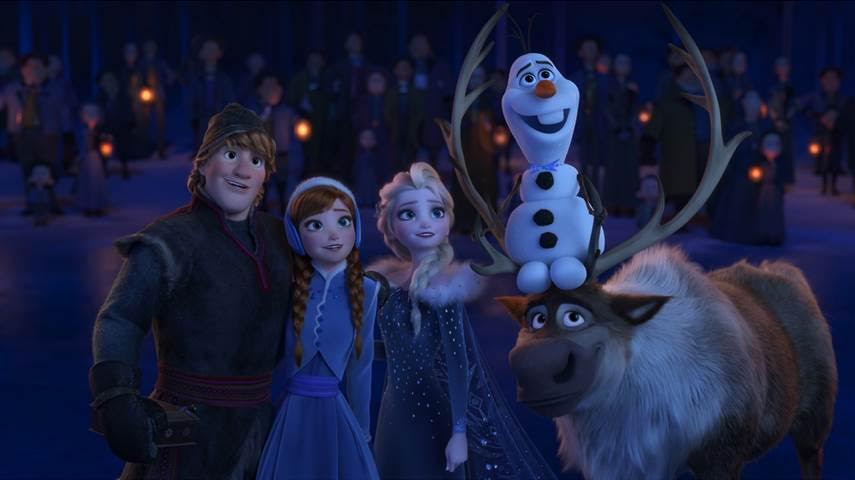 Don't forget that for a limited time only, you can also see the brand new Walt Disney Animation Studios' featurette OLAF'S FROZEN ADVENTURE playing in front of COCO only in theatres!
If you have any hesitation about taking your kiddos to go see COCO because of the the skeletons or the fact that the movie is based on Dia de Los Muertos, I hope that you reconsider after reading our review. It's the perfect way to start the holiday season!

You Are Also Going To Love:
If you love this Disney*Pixar Coco Movie Review, then you will also love the following Coco Posts I have put together for you:
Will you be taking your family to see COCO this Thanksgiving week?

SaveSave
SaveSave
SaveSave