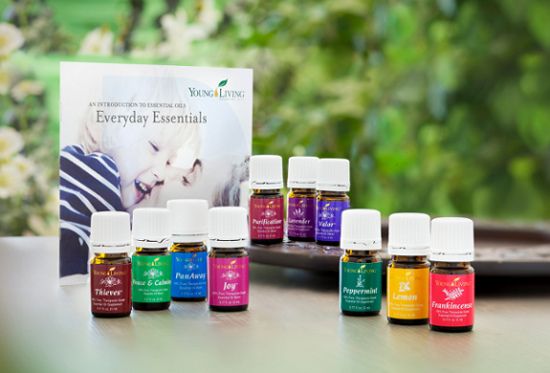 As you all know, I have been loving being apart of the Young Living Essential Oils family!  It has definitely brought a new perspective as a parent about what I let my children ingest or how I care for my family now.  It's been a few months since we have been using our essential oils and after posting several ways we use our oils I've been receiving emails about more information, so I thought it would be a good idea to have a post up with all the details and how you could also become apart of this amazing family!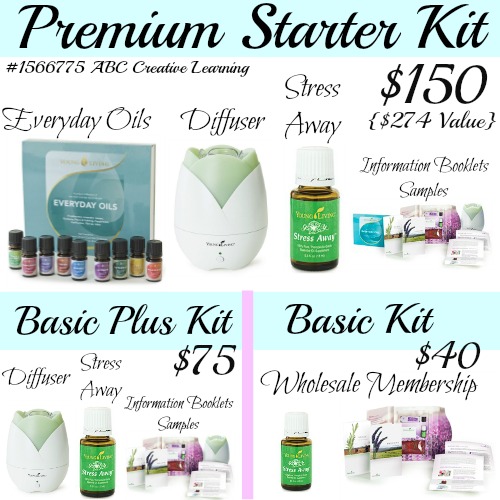 The picture above gives you a breakdown on the three different ways you can actually become a Wholesale Member with Young Living.  I always recommend the Premium Kit, just because it brings the Diffuser, 10 Everyday Oils,  and Stress Away plus your Membership Packet with information and some samples.  The diffuser is absolutely amazing and it's worth it!  I use the diffuser everyday in my home non-stop and I'm actually thinking of purchasing a second kit just so that I can have a second diffuser and an extra Premium Kit to show friends when they ask about it.  The best part is that Young Living gives you the option to either be a wholesale customer or retail customer.  Below I will breakdown all the details for you and as always please do not hesitate in sending me an email with any questions.
Wholesale Customer: (Young Living calls Wholesale Members Distributors)
To become a wholesale customer the only thing you would need to do first is choose which starter kit you would like to purchase.
Basic Starter Kit ($40 wholesale/0 PV)>>>  Includes  2 NingXia Red 2-oz. samples, 5-ml Stress Away blend, AromaGlide Roller Fitment, 10 Essential Oil Sample Packets (2 packets each of lavender, peppermint, lemon, Thieves, & Peace & Calming – each sample packet contains about 6 drops of oil), and educational materials to help you get started.
Basic Plus Starter Kit ($75 wholesale/0 PV) >>>  Includes  everything in the Basic Starter Kit, plus a Home Diffuser
Premium Starter Kit ($150 wholesale/100 PV)>>> The value of this kit is $249.50! Includes everything in the Basic Plus Starter Kit, home diffuser, Everyday Oils collection containing 10 of my favorite oils.  **Definitely the one I recommend**
Everyday Oils Essential Oil Collection includes:
1 – 5 ml Joy
1 – 5 ml Frankincense
1 – 5 ml Lemon
1 – 5 ml Lavender
1 – 5 ml Peppermint
1 – 5 ml Purification
1 – 5 ml Panaway
1 – 5 ml Peace & Calming
1 – 5 ml Thieves
1 – 5 ml Valor
No obligation to sell anything, EVER!  When I made the decision to start using essential oils I signed up as a wholesale customer because it's amazing to receive that 24% discount, but I knew that I didn't have time or wanted to sell the oils.  The best thing is that you are not required to sell anything, but honestly once you start using them and see how amazing they are, I can guarantee that you will begin sharing with friends and family just like I have!
No order minimum – order whenever you like, as often as you like at 24% off retail prices!
Plus, we have an amazing group to help us throughout everything!  I have not been alone in my new adventure and anytime that I have a questions there is always someone there to help me out!
Once you have chosen your kit you will also have the option to sign up for the monthly Essential Rewards Program, which is a monthly ordering program.  At first I did not sign up for the program, but I have to admit that after a months worth of oils my kit wasn't enough.  For my second month I made sure to sign up for the rewards program and I'm so glad I did.  It has saved us even more by earning me points to purchase products for FREE!  The only thing is that to stay in the essential rewards program and receive reduced shipping you have to order a minimum of $50PV each month.  Believe me when I say that I have needed more oils every month and I've also been trying to build up my oil supply, so this has been great!
Retail Customer:
You do not have to purchase a Starter Kit
Order anytime you like at retail price (not with the 24% like wholesale customers)
Check out the video below about Young Living's Seed to Seal Process!  This is one of the main reasons I went with Young Living.
 Sign up HERE if you are ready to take the next step with Essential Oils!
Do you have any questions?  Click here to send me a message or questions!
Here are some of the ways we have used essential oils in our daily life like homeschooling and on sick days. Make your own homemade Vapor Rub for coughs and congestion. Use your essential oils help your child concentrate in school or during homeschooling lessons.

Disclaimer: Remember I am not a doctor, just a mommy trying to find healthier and natural ways to take care of my family.  This information is not intended to take place of or substitute any advice given to you by a health care professional.  This is solely my experience and opinion.