Preschool-aged children can be so picky. That's why I'm sharing these 5 Easy Ways to Get Your Preschooler to Eat More Veggies. Their likes and dislikes can change quickly with no rhyme or reason. There's nothing quite like a battle caused by introducing a new flavor or texture at mealtime! It can be enough to make even the most determined parent stick to serving graham crackers, chicken nuggets and macaroni and cheese. But kids need the nutrition in fresh vegetables. Even more, the preferences they develop now can affect their food choices for the rest of their lives!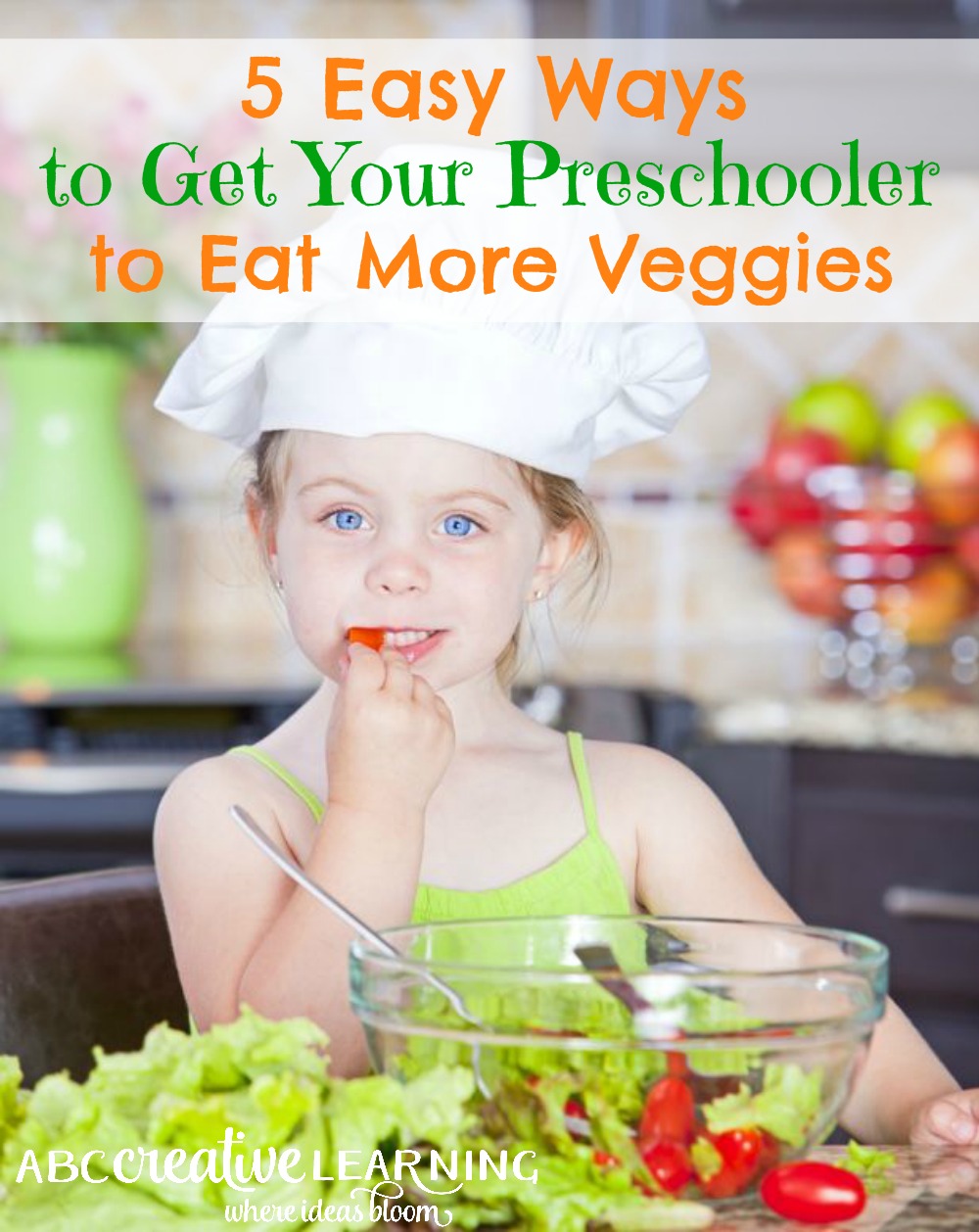 5 Easy Ways to Get Your Preschooler to Eat More Veggies
So how do you get your preschooler to like vegetables? While there's no easy button, you can use these five simple tricks to help them enjoy the beautiful colors and flavors found in the produce aisle.
Help them learn where vegetables come from
Tour a produce farm together, or better yet, plant your own garden. Let them touch the soil, look at how tiny the seeds are, and talk about how the rain and sunshine help the vegetables grow. If you can, let them taste fresh veggies right off the vine.
Let them shop with you
Preschoolers love to be part of the process, so get them involved and let them pick out several options. Make it a game to see how many shapes and colors you can put in your basket.
Prepare your meals together
Scrubbing potatoes, snap peas, and washing tomatoes are all great ways for preschoolers to be involved in meal prep. When it comes time to serve the food, they'll be much more likely to try the dishes that they helped make.
Be creative
There are a ton of ideas on Pinterest for preparing vegetables in cute and appealing ways. Try dipping your veggies in dressing or even ketchup! (Trust me, your preschooler won't think twice.) Look for miniature versions of popular vegetables – baby carrots, mini sweet peppers, and grape tomatoes are all super fun to eat.
Always offer choices
Try to offer two vegetable sides at every meal. Experiment with different ways of preparing each vegetable. Your child may not care for raw carrots but love them roasted or sauteed. They may love raw broccoli dipped in ranch, but hate it steamed. Let your child help choose which veggies to eat and how they are served – you'll find they are much more willing to try vegetables of their own choosing.

Remember, like every other parenting challenge, don't give up. These things take time and consistency, but they are so worth it! After some time implementing these simple steps, you may be surprised at how easy it is to get your preschooler to like vegetables after all.
For some recipe ideas follow my Recipe Board on Pinterest
Follow ABC Creative Learning's board Recipes on Pinterest.


What is the one vegetable that your preschooler refuses to even try?